Website under construction... Coming Soon!

ABM Italia S.p.A.
ABM Italia S.p.A. works both on a European and an international scale, exporting its products to over 80 different countries. The Italian office and the 3 sales offices in Europe, together with the production site in Canada and the APmedical branch in the United States, are enforcing the penetration of international markets, guaranteeing a significant competitive edge for the Kis APmedical and Dblade brands.
Our Brands

Products and solutions for organizing indoor and outdoor living space in addition to a line of chromed metal wire interior design accessories. The Kis brand stands out for its made in Italy design, attention to detail, use of colour, customer service and the ability to respond quickly to consumer and consumerneeds by constantly renewing its range.
www.kis.it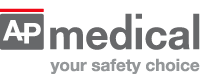 A wide range of containers for the disposal of special hospital waste. With more than 30 years of experience in the plastic injection moulding industry, the company is one of Europe's leaders in the sector. A wide product range, customized service, top quality materials and numerous product certifications are just some of APmedical's strong points.
www.apmedical.it

A line of clothing that meets the different needs of all those who want to wear comfortable clothes at work but who do not want to give up a style that is also suitable for leisure.
www.dbladework.com